Visitor Attractions
Park Information
western Allegany County, Maryland

- - - Internet Page from
the Friends of the
Dan's Mountain
Maryland State Park

---
INTRODUCTION:
Halfway between Frostburg and Westernport, atop a sixteen mile long ridge along the George's Creek valley in western Allegany county, Maryland, is Dan's Mountain State Park -- 480 acres of highland meadow, forest, mountain brooks, and a fishing pond; picnic areas, playgrounds, park benches, and an outdoor heated swimming pool.
BACKGROUND:
Dan's Mountain is named for Daniel Cresap, one of the first settlers in Allegany County. As a commercial hunter, Daniel was very adventurous. While pursuing a black bear in a tree, Daniel fell and lay unconscious until his friend and hunting companion Nemacolin, a Delaware Indian, rescued him. Since then, it's been Dan's Mountain . No one knows what happened to the black bear, but its kinfolk still roam the mountains, along with the deer and other forest animals. (Nearby, Dan's Rock Overlook provides a view of the area from its 2898 foot height.)
FACILITIES:
The swimming hole: An Olympic size, heated swimming pool with water slides; also a fenced-in wading pool, a bathhouse, and a convenience snack bar just outside the pool enclosure. <! Open for the 2010 summer season, starting Memorial Day weekend, May 29th.> [.....more information]
Playground areas: Tire playground, miniature golf course, volley ball court, horse shoe pitch, and plenty of open space. Picnic tables and lawn furniture are sprinkled throughout the area. [.....more information]
Picnic areas: Numerous shelters and picnic tables are scattered through the main meadow park area and in the secluded forested areas; many with nearby water and restroom facilities. [.....more information]
Walk About: Numerous hiking trails, history areas, and forested picnic areas are throughout the park.
[.....more information]
Fishing Pond The small fishing pond, with shelter, picnic tables, and park benches, is stocked yearly. On the hill above, in the woods, is the Water Station Run pavilion. [.....more information]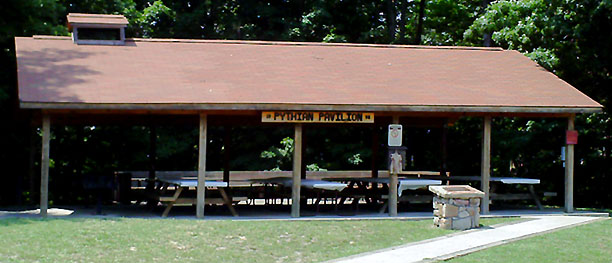 Pavilions: Four rental pavilions with amenities for large private gatherings, 30 up to 60 people are available,
scattered around the park area. [.....more information]

Dan's Mountain Park is a dawn-to-dusk facility and has no camping area. The staffed services generally are available Memorial Day to Labor Day, staffing provided by Maryland Parks Service and local volunteers.

During the summer months, Memorial Day to Labor Day, pets on leashes are permitted on weekdays, but not on weekends -- during the winter months, pets on leashes are permitted on all days. Please contact the Park Service for detailed information.

For the disabled, the park provides accessible overlooks and an access ramp to the swimming pool.


DIRECTIONS
Dan's Mountain State Park is located in the western part of Allegany County, which is in the western part of Maryland.

From Interstate 68, use Exit 34 (Westernport) to travel south on Maryland Route 36 for approximately nine miles. (Following the state route through the small town of Midland, past George's Creek Elementary School, and over the railroad tracks.)

Turn to the park drive at the "V," using the left branch. (The right branch continues into the town of Lonaconing.)

CONTACT INFORMATION
---
And Again -- Thank You! -- To all of the volunteers and staff
who make the facilities of Dan's Mountain State Park available to
western Maryland residents and visitors.